Alexander Calder Tapestries
ALEXANDER CALDER
Dirty Blues
168 x 245 cm 
Circa 1970
Aubusson Tapestry by Pinton workshop
COLLECTION HADJER
BEGINNING OF THE TAPESTRIES WITH AUBUSSON 
In 1960, Pierre Baudouin, a master weaver at France's L'Atelier Raymond Picaud, asked the painter Léon Gischia if he knew any artists who would like to make tapestries. Gischia didn't hesitate: Alexander Calder. Best known for his mobiles and public sculptures, Calder had a studio in Saché, not far from Baudouin's Aubusson base, and soon began developing designs in ink and gouache—in black and white at first—to be sent to the atelier and realized in wool.
"If you like what you give them, you have to like what you get back"
This is what Alexander Calder said when I asked him how he felt about the way the Aubusson weavers interpret his exuberant tapestry designs. Produced first by Picaud and later by Pinton Frères, the majority of the tapestries were made with Australian wool dyed to Calder's specifications; each square yard of tapestry took a month to produce.
Calder prepare his tapestry designs in color sheets of paper the size of his large gouaches. These function as maquettes, being mechanically enlarged to the size o the finished tapestry. 
Working with textiles wasn't new for Calder. "He made his own neckties," reveals the artist's grandson, Alexander S. C. Rower. "He also drew designs directly on canvas that my grandmother then hooked into rugs by hand."
Calder was one of the artists most involved with tapestry: there were over fifty Calder images translated into Aubusson tapestries.
CALDER EXHIBITION TAPESTRIES 
Calder's tapestries are closely related to his gouaches, but they are much larger and often more complex in design. As in all his work the compositions are deceptively casual and have the same playful element that enlivens even the most powerful of his abstractions.
Their appearance turned connoisseurs' heads, and tapestries soon hung in Calder retrospectives at the Guggenheim in 1964 and Paris's Musée National d'Art Moderne in 1965 and were the subject of an exhibition at the Whitney in 1971. Two years later, architect Eliot Noyes commissioned a 20-foot-wide masterwork for IBM's headquarters in Armonk, New York.
The Aubusson Calder tapestries that were included in the 1976 Alexander Calder Retrospective at the Whitney Museum in New York and are part of its permanent collection.  These Calder tapestries are pictured in "Calder's Universe," which was published by the Whitney and which is considered the "official book" about Calder. The famous Whitney exhibition also traveled to the High Museum of Art in Atlanta, the Walker Art Center in Minneapolis, and the Dallas Museum of Fine Arts.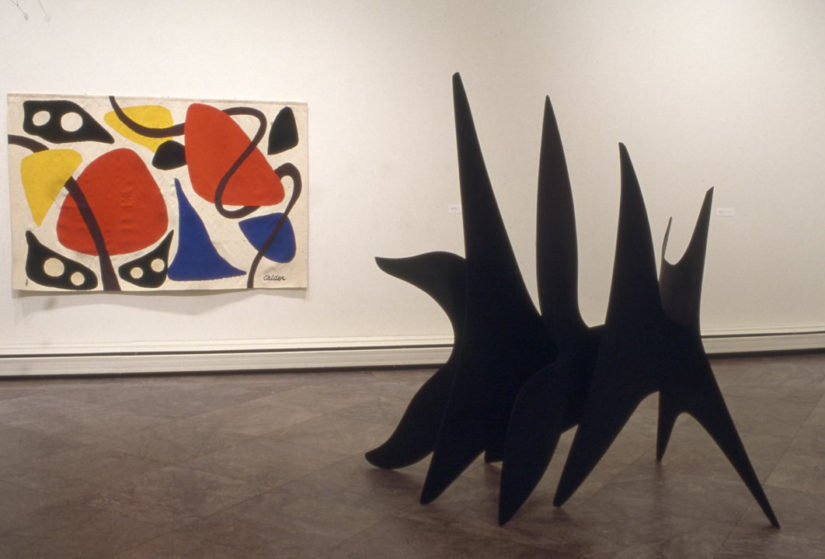 After a visit to Piet Mondrian's studio in the early 1930s, Calder abandoned representational sculpture in favor of abstract, geometric, constructions, which Jean Arp labeled "stabiles." He gradually began to add movement and these became known as "mobiles," named by Marcel Duchamp. By the 1950s, Calder began to produce sculpture on a monumental scale, and his outdoor work is certainly among the most brilliant public sculptures of our time. He also produced prolific designs for posters, textiles, jewelry, and tableware. 
Installation view of Celebrating Calder.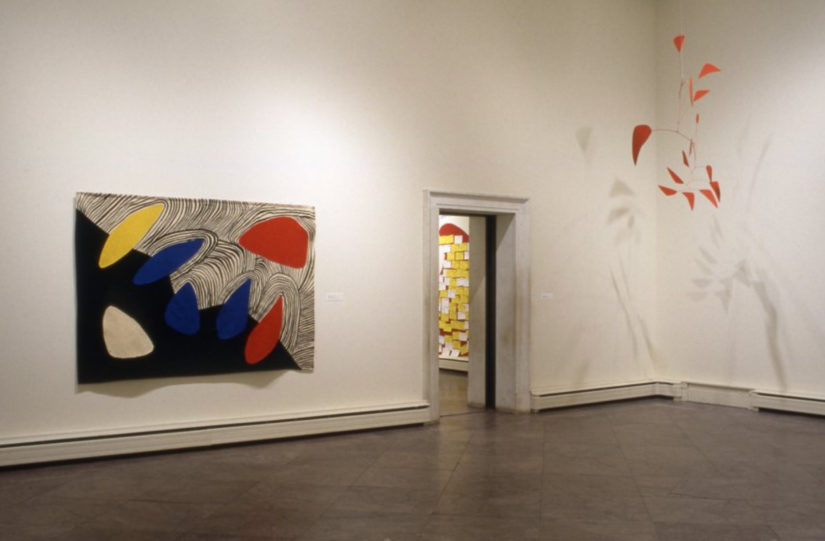 Celebrating Calder, organized by the Whitney Museum of American Art and on view at the Albright-Knox from March 9 to May 5, 1996, was a whimsical exhibition featuring more than 50 sculptures, drawings, jewelry, and tapestries by Alexander Calder.
FIBER TAPESTRIES 
In 1972, two days before Christmas, an earthquake beneath the surface of the earth in neighbouring Nicaragua killed 5,000 people and left 250,000 destitute. The devastation attracted the grandiose sympathies of Richard Nixon and Pope Paul VI, who both made lengthy public orations, but it was Manhattan socialite Kitty Meyer who set her sights on a huge visual arts project as a means to fund rebuilding. Only five artists responded to her written pleas for lithographs, one of them Calder, newly settled in his futuristic workshop at Indre-et-Loire in central France. As a token of gratitude, Meyer, a former Holocaust refugee to Nicaragua, paid him a personal visit bearing a Masaya hammock as a gift.
Calder was so captivated by the craftsmanship of this Nicaraguan creation that he commissioned 100 local weavers to make a host of new ones following eight of his own designs, along with a range of wall hangings. A collection of 14 further tapestries in limited editions then followed; a whim had blossomed into a distinctive creative sideline. In the spirit of Meyer's altruistic vision, each of these was funded by paying workers four times the usual rate. The resulting untitled works retain Calder's distinctive palette, but assume an uncharacteristic sturdiness in their thick braided weave. A selection of these unconventional but highly beautiful tapestries are display in many Museums in the United States – all created before the artist's death in 1976 .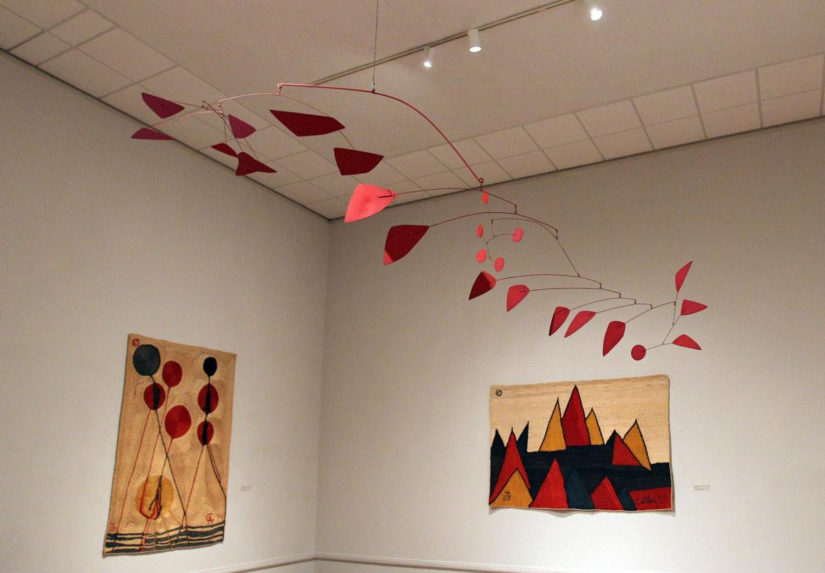 Installation view at the Huntington Museum of Art, USA
CALDER RUG BY CUTTOLI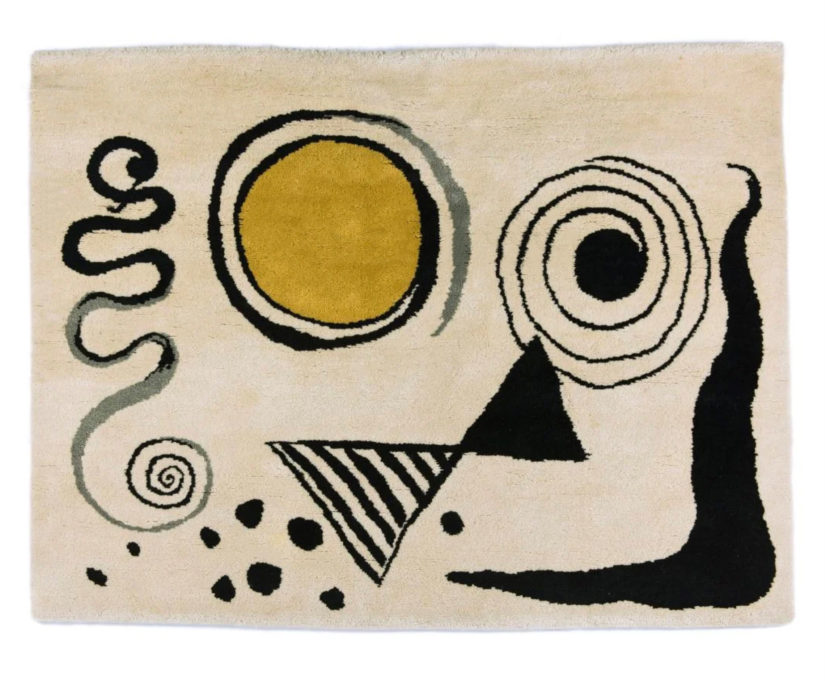 Alexander Calder – Rug / Tapestry
The third technic of Calder tapestries are pile carpets/Tapestries produce by Cuttoli workshop. These are very graphic and people (including Calder himself) hang them on walls, so inevitably they are called tapestries.
In the book, Calder's Universe, which was published in conjunction with the Whitney Museum's 1976 Calder Retrospective, several rugs are pictured, some hooked and knotted by Louisa Calder, the artist's wife, others by apparent friends of the family. These are identified as never being available for sale, only for personal use. In that anyone who knows how to make a rug (including commercial manufacturers who haven't heard about artist's rights) could conceivably make one after a Calder design, provenance can play an important part in determining whether a Calder rug is even legal.
There were two or three Calder tapis that were legitimately created by Marie Cuttoli, a friend of many artists including Picasso. Cuttoli had rugs made after Calder paintings she owned. Hand-knotted, these were originally sold in galleries both in Europe and the United States, but always for prices much less than Aubusson.